Device Server IOLAN DG1 TX
Device Server para Temperaturas Extremas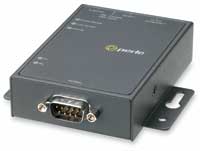 1 Interfaz de puerto serie RS232/422/485 seleccionable por software
Intervalo ampliado de temperaturas ambientales de funcionamiento (-40°C a 74°C)
Ethernet 10/100 o 10/100/1000
Conjunto de funciones completo
El Servidor de Dispositivos IOLAN DG1 TX se enfoca en la necesidad de conectar equipos serie remotos, que operan en ambientes de temperaturas extremas, a una red IP empresarial. El IOLAN DG1 TX operará a temperaturas de orden industrial que van de -40°C a +74°C (-40°F a +165°F). El equipamiento serie encontrado en gestión de tráfico, cañerias de gas y petroleo, monitoreo de clima y otras aplicaciones remotas deben funcionar bajo temperaturas que no son soportadas por los servidores de dispositivos serie comerciales. Presentando esta función de temperatura extrema junto con una resistente cubierta de acero, el IOLAN DG1 TX permite que los administradores puedan accesar remotamente los puertos de consola serie en equipos sujetos a ambientes hostiles y temperaturas severas tales como cámaras, alarmas, controladores de tráfico, sensores y equipos de supervisión a través de una red IP.
Prestaciones y ventajas
TrueSerial® proporciona las conexiones serie más auténticas a través de Ethernet
Procesadores potentes para los mejores niveles de rendimiento del mercado
Operación en ambientes que requieren temperaturas de operación de ambiente extremo de -40°C a +74°C (-40°F a +165°F)
Indicadores de interfaces de red y serie para facilitar la solución de problemas
Utilidad de instalación Plug & Play que elimina los problemas de configuración de todos los IOLAN de su red IP
El software TruePort proporciona puertos serie remotos verdaderos sobre una LAN Ethernet
Kit de desarrollo de software disponible para desarrollar potentes aplicaciones personalizadas
Los modelos de cables de alimentación sobre serie eliminan el coste que supone una instalación de alimentación independiente
Soporte IP de nueva generación (IPv6) para proteger su inversión y lograr la compatibilidad de red
Compacto y con carcasa protectora rígida de acero para montaje en escritorio, pared o carril DIN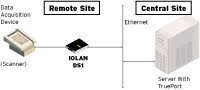 Conexiones serie a Ethernet flexibles y fiables
IOLAN DG1 TX es idóneo para conectar aplicaciones de puerto COM basadas en serie y aplicaciones basadas en dispositivos UDP o TCP a dispositivos remotos. El redireccionador TruePort de Perle ofrece conexiones de puerto COM o TTY fijas a aplicaciones basadas en servidor, lo que permite la comunicación con dispositivos remotos conectados a los servidores de dispositivos Perle. También puede crear un túnel de datos serie entre dispositivos a través de una red IP..
IOLAN DG1 TX es fácil de instalar y administrar y cuenta con interfaz EIA-232/422/485 seleccionable mediante software, lo que simplifica la instalación y elimina la manipulación mecánica asociada a productos basados en interruptor DIP.
El software de administración de dispositivos de Perle, suministrado de serie con IOLAN DG1 TX, proporciona un control y administración centralizados de múltiples unidades, con lo que se consigue el máximo tiempo de actividad del equipo remoto. IOLAN DG1 TX cuenta con protección frente a descargas electrostáticas y sobrecargas de corriente mediante unos resistentes circuitos de protección contra ESD de 15 Kv, lo que permite a las empresas y organizaciones utilizar esta solución en campo con plena confianza.
Plug-ins de IOLAN
Con la experiencia acumulada durante años por Perle en la conexión a Ethernet de miles de dispositivos diferentes, puede tener la garantía de que, al utilizar uno de sus servidores de consolas con prácticamente cualquier dispositivo que tenga un puerto COM, dicho dispositivo funcionará con la aplicación deseada exactamente de la misma forma que cuando se encontraba conectado directamente. En el caso improbable de que el servidor de consolas Perle no permita establecer esta conexión, Perle hará que funcione.
Los servidores de dispositivos IOLAN de Perle utilizan "Plug-ins de Dispositivos" instalables por el cliente para lograr conectar dispositivos en red correctamente en los mismos casos en los que otras soluciones han fallado. Solicite una consulta de ingeniería gratuita.

Tecnología IP avanzada
La gama IOLAN es compatible con el protocolo IP de nueva generación (IPv6), con lo que protege la inversión de las empresas y organizaciones gracias al cumplimiento de este estándar en rápido crecimiento.
La demanda de IPv6, que es compatible con esquemas de direccionamiento IPv4, se ve impulsada por la necesidad de disponer de más direcciones IP. Ante la implementación y el despliegue de redes móviles avanzadas, se necesita un método resistente que permita gestionar el inmenso influjo de nuevos dispositivos con capacidad de dirección IP en Internet. De hecho, el Departamento de Defensa de EE.UU. exige que todos los equipos adquiridos sean compatibles con IPv6. Asimismo, los principales sistemas operativos, como Windows, Linux, Unix y Solaris, además de los routers, cuentan con soporte incorporado para IPv6.
Por consiguiente, es importante que los usuarios finales e integradores seleccionen equipos de conexión a red que incorporen el estándar IPv6. La línea IOLAN, con soporte para IPv6 ya integrado, es la mejor opción en tecnología serie a Ethernet.
Garantía de por vida
Los servidores de dispositivos IOLAN DG1 TX de Perle cuenta con el respaldo del mejor servicio y soporte del sector, incluida la garantía de por vida exclusiva de Perle. Desde 1976, Perle viene ofreciendo a sus clientes productos de conexión a red que proporcionan los máximos niveles de rendimiento, flexibilidad y calidad.
Características del Software - IOLAN DG1 TX Device Server
Serial Port Access
Connect directly using Telnet and Reverse Telnet
Multihost access enables multiple hosts/servers to share serial ports
Accessibility
In-band ( ethernet ) and out-of-band ( dial-up modem ) support
IPV6 and IPV4 addressing support
Availability
Primary/Backup host functionality enables automatic connections to alternate host(s)
Security
Local database USERID/PASSWORD
Disable unused daemons
Terminal Server
Telnet
Auto session login
MOTD - Message of the day
Serial machine to Ethernet
Tunnel raw serial data across Ethernet
Raw serial data over TCP/IP
Raw serial data over UDP
Serial data control of packetized data
Share serial ports with multiple hosts/servers
Virtual modem simulates a modem connection - assign IP address by AT phone number
TruePort com/tty redirector for serial based applications on Windows, Linux, Solaris, SCO, HP UX, NCR UNIX and AIX. For a complete list of all the latest drivers click here
"TrueSerial packet technology provides the most authentic serial connections across Ethernet ensuring serial protocol integrity"
RFC 2217 standard for transport of serial data and RS232 control signals
Customizable or fixed serial baud rates
Plug-ins allow customer or Perle provided plug-ins for special applications
Software Development Kit ( SDK ) available
Serial encapsulation of industrial protocols such as ModBus, DNP3 and IEC-870-5-101
ModBus TCP gateway enables serial Modbus ASCII/RTU device connection to ModBus TCP
Data logging will store serial data received when no active TCP session and forward to network peer once session re-established - 4K bytes circular per port
Console Management
Sun / Oracle Solaris Break Safe
Reverse Telnet
OA&M ( Operations, Administration and Management )
SNMP V3 - read and write, Perle MIB
Syslog
Perle Device Manager - Windows based utility for large scale deployments
Configurable default configuration
Installation Wizard
Set a Personalized Factory Default for your IOLANs
Protocols
IPv6, IPv4, TCP/IP, ARP, RARP, UDP, UDP Multicast, ICMP, BOOTP, DHCP, TFTP, Telnet, raw, reverse Telnet, WINS, HTTP, SNMPV3, RFC2217
Hardware Specifications - IOLAN DG1 TX Extended Temperature Device Servers
Processor
600 MHz ARM processor
Memory
RAM MB
512
Flash MB
4000
Interface Ports
Number of Serial Ports
1
Serial Port Interface
Software selectable RS-232/422/485 on DB9M
Sun / Solaris
Sun / Oracle 'Solaris' Safe - no "break signal" sent during
power cycle causing costly server re-boots or downtime
Serial Port Speeds
300bps to 230Kbps with customizable baud rate support
Data Bits
Configurable for 5,6,7 or 8-bit protocol support
Use TruePort to transparently pass 9-bit serial data
Parity
Odd, even, Mark, Space, None
Flow Control
Hardware, Software, Both, None
Serial Port Protection
15Kv Electrostatic Discharge Protection (ESD)
Local Console Port
RS232 on Serial Port
Network
Autosensing 1000Base-T / 100Base-TX / 10Base-T
Auto-MDIX
Software selectable Ethernet speed 10/100/1000
Software selectable Half/Full/Auto duplex
Ethernet Isolation
1.5Kv Magnetic Isolation
Power
Power Supply
Terminal Block
Power Supply Options
Power via external power 9-30v DC, 4.8 Watts, terminal block connector.
Nominal Input Voltage
12v DC / 24v DC
Input Voltage Range
9-30v DC
Power IOLAN over Serial
N/A
Typical Power Consumption
@ 12v DC (Watts)
1.9
Indicators
LEDs
Power / Ready
Network Link
Network Link activity
Serial: Transmit and Receive data per port
Environmental Specifications
Heat Output (BTU/HR)
6.8
MTBF (Hours)
334,496


Calculation model based on MIL-HDBK-217-FN2 @ 30 °C

Operating Temperature
-40ºC to 74ºC (-40ºF to 165ºF)
Storage Temperature
-40ºC to 74ºC (-40ºF to 165ºF)
Humidity
5 to 95% (non condensing) for both storage and operation.
Case
SECC Zinc plated sheet metal (1 mm)
Ingress Protection Rating
IP40
Mounting
Wall or Panel mounting . DIN Rail mounting kit optional
Product Weight and Dimensions
Weight
.23 KG (.51 lbs)
Dimensions
90 x 64 x 22 (mm), 3.6 x 2.5 x 0.87 (in) case dimensions not including mounting tabs,
90 x 89 x 24 (mm), 3.6 x 3.5 x 0.87 (in) includes mounting tabs.
Packaging
Shipping Dimensions
260 x 170 x 70 (mm), 10.2 x 6.7 x 2.8 (in)
Shipping Weight
0.42 KG (.92 lbs)
Regulatory Approvals
Emissions
CFR47 FCC Part 15 Subpart B:2015
ICES-003:2016 Issue 6:2016
CISPR 32:2015/EN 55032:2015 (Class A
EN55011 (CISPR11)
CISPR 16-2-3:2010/A2:2014
EN61000-3-2:2014, Limited for Harmonic Current Emissions
EN61000-3-3:2013, Limits of Voltage Fluctuations and Flicker
Immunity
CISPR 24:2010/EN 55024:2010
EN61000-4-2: 2009 Electrostatic Discharge
EN61000-4-3: 2006/A2:2010: RF Electromagnetic Field Modulated
EN61000-4-4: 2004 Fast Transients
EN61000-4-5: 2006 Surge
EN61000-4-6: 2009 RF Continuous Conducted
EN61000-4-8: Power-Frequency Magnetic Field
EN61000-4-11: Voltage Dips and Voltage Interruptions
Safety
IEC 62368-1 and EN 62368-1:2014
CAN/CSA-C22.2 No. 62368-1-14 and UL 62368-1
Other
Reach, RoHS and WEEE Compliant
ECCN - 5A991
HTSUS Number: 8517.62.0020
Perle Lifetime warranty
IOLAN DB9M Serial Connector Pinout

DB9M Socket

Pinout
Direction
EIA-232
EIA-422 Full Duplex
EIA-485 Full Duplex
EIA-485 Full Duplex
1
in
DCD
2
in
RxD
RxD+
RxD+
3
out
TxD
TxD+
TxD+
DATA+
4
out
DTR
5
GND
GND
GND
GND
6
in
DSR
RxD-
RxD-
7
out
RTS
8
in
CTS
9
TxD-
TxD-
DATA-
TCP
Using RAW TCP Sockets
A raw TCP socket connection which can be initiated from the serial-Ethernet device or from the remote host/server. This can either be on a point to point or shared basis where a serial device can be shared amongst multiple devices. TCP sessions can be initiated either from the TCP server application or from thePerle IOLAN serial-Ethernet adapter.
UDP
Using Raw UDP Sockets
For use with UDP based applications, Perle IOLANs can convert serial equipment data for transport across UDP packets either on a point to point basis or shared across multiple devices.
Console Server
Console Management
For access to remote console ports on routers, switches,etc, Perle IOLAN's enable administrators secure access to these RS232 ports via inband Reverse Telnet / SSH or out of band with dial-up modems. Perle IOLAN models with integrated modems are available.
COM/TTY
Connect Serial-based Applications with a COM/TTY Port Driver
Serial ports can be connected to network servers or workstations running Perle's TruePort software operating as a virtual COM port. Sessions can be initiated either from the Perle IOLAN or from TruePort.
Tunneling
Serial Tunneling between two Serial Devices
Serial Tunneling enables you to establish a link across Ethernet to a serial port on another IOLAN. Both IOLAN serial ports must be configured for Serial Tunneling (typically one serial port is configured as a Tunnel Server and the other serial port as a Tunnel Client).
Virtual Modem
Virtual Modem
Enables the serial-Ethernet adapter to simulate a modem connection. When connected to the IOLAN and initiates a modem connection, the IOLAN starts up a TCP connection to another IOLAN serial-Ethernet adapter configured with a Virtual Modem serial port or to a host running a TCP application.