Routers LTE celulares IRG5140+
Routers celulares periféricos de clase empresarial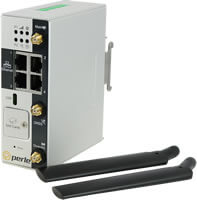 Router LTE para conectividad primaria o de conmutación por error
Administración fuera de banda para la resolución remota de problemas
LTE-A Pro para velocidades de enlace descendente 10 veces más rápidas y velocidades de enlace ascendente 3 veces más rápidas
Factor de forma de carril DIN robusto de calidad industrial
Ethernet de 4 puertos 10/100/1000
Conectividad de red a través de LTE, Ethernet, y USB 3.2
Seguridad mejorada con autenticación de dos factores

(2FA)
El Router LTE IRG5140+ de Perle tiene el conjunto más completo de características, funcionalidad y rendimiento para proporcionar conectividad de respaldo primaria o de conmutación por error a la infraestructura y los activos remotos. Este router celular de alto rendimiento, robusto y montable con ranuras SIM duales, con ranuras SIM duales, se utiliza fácilmente sin necesidad de formación gracias a su intuitiva interfaz gráfica de usuario web. Para scrips de administración avanzados, también hay comandos CLI disponibles.
El Router LTE IRG5140+ ofrece una conectividad de red rápida y fiable cuando las opciones de cableado son imposibles de implementar o requieren una copia de seguridad. Esto es crucial para permitir una gran variedad de aplicaciones al tiempo que se garantiza el más alto grado de seguridad para proteger la integridad de los servicios críticos. Reduzca el coste del tiempo de inactividad y de las llamadas de servicio, y haga que los sitios distribuidos estén en línea más rápidamente. Con respaldo para Datos, SMS, voz y vídeo, el IRG5410+ puede integrarse en cualquier infraestructura de red de localización empresarial, de edificios, industrial o móvil.
Controladores de edificios y automatización de procesos, Internet de los objetos (IO)
Activos de red inteligentes (contadores, conmutadores, controladores), controladores de infraestructura de telecomunicaciones
SCADA, Sistemas de administración de distribución, Registradores de datos remotos, medidores de flujo, equipos de detección
Señalización digital, cajeros automáticos, puntos de venta, quioscos, tiendas "pop-up" temporales
Videovigilancia, Hotspots móviles
Gestión de flotas, seguimiento de localización GPS/GNSS, taxis, vehículos de servicio público, redes de área de vehículos (VAN)
Sistemas de tránsito, autobuses, metro, ferrocarriles
Operación de banda celular certificada en todo el mundo para 4G LTE,
DC-HSPA+

, HSPA+, HSPA, y UMTS (WCDMA)

El router IRG5140+ de Perle es LTE-A PRO CAT12 con velocidades de enlace descendente de 600 Mbps y ascendente de 150 Mbps. 24 bandas LTE y 9 bandas UMTS/WCDMA son compatibles con una amplia compatibilidad de operadores.
Un router periférico con capacidades de enrutamiento de nivel empresarial.
El router IRG5140+ tiene toda la funcionalidad de enrutamiento avanzado que se encuentra en los routers empresariales más avanzados. El amplio respaldo de enrutamiento de protocolos significa que puede utilizarse fácilmente en estructuras de red de malla grandes o jerárquicas. Una CPU rápida y mucha memoria garantizan que el router pueda gestionar una carga de trabajo uniforme y pesada durante todo el día.
RIP, RIPv2, RIPng, OSPFv1/2/3, BGP-4, y muchos más..
Cuando el BGP se interconecta con múltiples ISP, el IRG5140 ofrece un rendimiento de enrutamiento de nivel de operador que es capaz de manejar la tabla completa de enrutamiento de Internet
IPv4 e IPv6
OpenVPN e IPSec VPN
DHCP y DHCPv6
Paso de IP para utilización que requieren que el router opere en modo portal o puente.
Ruta entre cualquier interfaz (LTE, WLAN, Ethernet, USB o serie RS232)
Reducir el tráfico de red no deseado mediante la creación de dominios de colisión y/o difusión
Cortafuegos de normas basado en zonas integrado
El cortafuegos integrado IRG5140 ofrece normas intuitivas para routers de múltiples interfaces para proteger las redes internas del acceso no autorizado de los usuarios en una red externa. El cortafuegos también protege las redes internas entre sí, por ejemplo, manteniendo la red de recursos humanos separada de la red de usuarios. Si hay recursos de red que necesitan estar disponibles para un usuario externo, como un servidor web o FTP, estos recursos se pueden colocar en una red independiente detrás del cortafuegos, en una zona desmilitarizada (DMZ). El cortafuegos permitirá un acceso limitado a la DMZ, pero debido a que la DMZ únicamente incluye los servidores públicos, cualquier ataque allí no afectará a la red interna. El cortafuegos controla cuando los usuarios internos acceden a redes externas (por ejemplo, acceso a Internet), permitiendo que solo salgan determinadas direcciones, requiriendo autenticación o autorización, o coordinándose con un servidor de filtrado de URL externo. Se puede utilizar una norma de «negación total» (lista negra) para prohibir el tráfico entre zonas de seguridad del cortafuegos hasta que se aplique una política explícita que permita el tráfico deseado. Los puertos del router se asignan a zonas y se aplican normas de inspección de cortafuegos al tráfico que se mueve entre las zonas. Las normas entre zonas del cortafuegos vienen con una flexibilidad y granularidad considerables, de modo que se pueden aplicar diferentes normas de inspección de cortafuegos al mismo puerto del router.
Seguridad mejorada con autenticación de 2 factores
Con múltiples sesiones VPN simultáneas y autenticación de 2 factores, los routers El Router LTE IRG5140+ enables secure communications to multiple back-end systems.
La administración de autenticación remota (RADIUS, TACACS+) se integra con sistemas de nivel empresarial para controlar el acceso a los dispositivos en el campo
El control CRC de imágenes de software protege el proceso de actualización del software contra la corrupción de software no deseado y el malware
OpenVPN de alta velocidad, seguridad IP (IPsec), estándar de cifrado de datos triple (3DES), y cifrado estándar de cifrado avanzado (AES) para la privacidad de datos en Internet
La prevención de intrusiones hace cumplir las políticas de seguridad en una gran empresa o en las redes de los proveedores de servicios.
GPS / sistema global de navegación por satélite (GNSS) incluidos
GPS y GNSS (Galileo, Glonass y Beidou) se incluyen por defecto en todos los routers IRG5140+. Esto permite el seguimiento en tiempo real de la ubicación de los activos remotos. Además, puede obtener actualizaciones de los relojes de la red en tiempo real en el router, o en cualquier equipo conectado, para un uso preciso de la marca de hora en aplicaciones en las que el tiempo es un factor importante.
Diseño de vanguardia certificado para una gran variedad de entornos de utilización
Los componentes y funciones de alto rendimiento permiten a los clientes aprovechar las velocidades de la red de banda ancha mientras ejecutan servicios de datos, voz y vídeo simultáneos y seguros. Todos los routers IRG5140+ tienen altas tasas de MTBF porque están fabricados con componentes de gama alta certificados para ofrecer una fiabilidad superior y un funcionamiento ininterrumpido.
Conectividad de respaldo primaria o de conmutación por error
Perle es la única empresa que ofrece routers periféricos LTE con todas las características y protocolos de nivel empresarial necesarios para ser un router LTE primario o de conmutación por error totalmente funcional. Si la conexión de red principal se interrumpe por cualquier motivo, el router IRG5140+ de Perle ofrece una conexión redundante siempre activa y rentable. El costo relativamente bajo del LTE para la continuidad de la sucursal significa una mayor rentabilidad de la inversión y escalabilidad para múltiples ubicaciones. En pocas palabras, un router LTE IRG5140 garantiza un tiempo de actividad máximo, una escalabilidad rentable y una facilidad de implantación y administración con recursos informáticos limitados.
Diseño compacto y ligero
Utilícelo en muchos entornos diferentes donde el espacio, la disipación de calor y el bajo consumo de energía son factores críticos. El soporte de montaje de

carril DIN

nativo garantiza una instalación sencilla.
Certificaciones de entornos robustos

Caja metálica resistente a la corrosión con una clasificación de protección de entrada IP20
Resistencia a golpes y vibraciones certificada según

MIL-STD-810G

, SAE J1455 y EN 61373
Hazloc según IECEx/IECx, ATEX y ANSI/ISA Clase 1 Div 2
Temperatura de funcionamiento de

-40°C a +70°C

Utilización en el ferrocarril

El router IRG5140 de Perle está totalmente aprobado y certificado para la utilización de aplicaciones de material rodante ferroviario. Es perfectamente adecuado para su instalación directamente en la cabina del tren o del metro o en los recintos que se encuentran en las vías del ferrocarril.

Certificaciones europeas EN50155 y EN50121
Certificaciones internacionales IEC60571 y IEC62236
La conectividad de la torre celular se puede establecer y mantener hasta 100 metros por segundo (360 km/224 millas por hora)
Conmutación por error
Dual-SIM LTE

para una verdadera continuidad de la actividad comercial

El router IRG5140+ de Perle viene con ranuras para SIM redundantes para garantizar una conectividad de red fiable y compatibilidad con multihoming celular en redes basadas en LTE y HSPA. Este resulta especialmente útil:
Cuando se ha excedido el límite de datos del contrato del operador principal, el IRG5140 cambiará automáticamente a un plan de datos de reserva.
Cuando el IRG5140 se utiliza en un entorno móvil, se puede habilitar y utilizar la itinerancia de larga distancia.
Cuando hay una falta de cobertura o un fallo en la red del operador, el IRG5140 cambiará automáticamente a un operador de reserva.
Más prestaciones y beneficios
Conectividad WAN
LTE y Ethernet 10/100/1000
Configuración de administración central

El router IRG5140+ utiliza PerleView,una herramienta de configuración de servidor basada en web que simplifica la configuración y la utilización. Las capacidades de administración centralizada ofrecen a los administradores de red visibilidad y control sobre las configuraciones de red en sitios remotos. Otras capacidades de administración del IRG5140+ de Perle incluyen:

Configuración rápida: Disponible cuando el router se encuentra en la configuración (inicial) predeterminada de fábrica.
Administrador web: Disponible a través de un navegador
CLI: Interfaz de línea de comandos
SNMP: Utilizando un sistema de administración de red
No hay cuotas de licencia mensuales o anuales vigentes
Conjunto de características de software: Router LTE celular IRG5140s
Todas las características y funcionalidades están incluidas en el precio base del producto. No hay gastos ni tarifas adicionales.
Functionality
Gateway (IP Passthrough Bridging), Switching, Routing
Routing Protocols
IPv4/IPv6, Static Routing, RIP/RIPNg, NAT, OSPFv3, BGP-4,

IPv6 Encapsulations (GRE, 6in4), Port Routing
IP Applications
DDNS, DNS Proxy / Spoofing, relay, client, Opt. 82,
NTP & SNTP (versions 1, 2, 3, 4) with support from GPS, GNSS & Network Carrier timing
DHCP / DHCPv6 server & BOOTP for automated network-based setup
VLAN & VPN
VLAN, IPSec, OpenVPN, VPN Failover (16 concurrent VPN tunnels)
GPS & GNSS Reports
GPS for tracking equipment over RS232, USB, and Ethernet
NMEA 0183 v3.0, TAIP, CSV
Firewall & Security
Built in Zone-Based Policy Firewall
Access Control Lists (list & ranges & time)
Filter based on MAC Address, IP, Port, Protocol, User
AAA, Radius, TACACS+
802.1x
Certificate Support (X.509)
Port Forwarding
BGP Communities
Security Features
Security via remote authentication (Radius and TACACS+)
Trusted host filtering (IP filtering), allowing only those hosts that have been configured in the host table access to the router.
Idle LTE port timers, which close a connection that has not been active for a specified period of time
Ability to disable services (for example, Telnet, TruePort, Syslog, SNMP, Modbus, HTTP) for additional security
Ability to individually disable network services that won't be used by the SSH client/server connections

(SSH 1 and SSH 2)
Logging via syslog
Ability to disable Ping responses
Ability to setup Access Lists (ACL's) to restrict traffic
Ability to set up firewalls to restrict incoming and outgoing packets
SSH client/server connections (SSH 1 and SSH 2)
SSL/TLS client/server data encryption (TLSv1/1.1/1.2 and SSLv2)
Ability to setup Virtual Private Networks (VPNs)
Wireless Security; WEP, WPA2-PSK & Enterprise (EAP, PEAP, LEAP), 802.11i
Wireless cellular security using PAP or CHAP authentication
Dynamic DNS with DYNDNS.org
Domain Name Server (DNS) support
Email alert notification
SSH connections (supported ciphers are Blowfish, 3DES, AES-CBC, AES-CTR, AES-GMC, CAST, Arcfour and ChaCha20-Poly1305)
SSL/TLS connections
RIP authentication (via password or MD5)
OSPF
2F Authentication
Management Access Control
SNMPv3
DMZ
FIPS 140-2
Secure HTTP/HTTPS/FTP/Telnet Authentication Proxy
Logging, Reporting & Alerts
Sys Log, Event Type, Report Type, Alerts & Monitoring, Triggers Status Screen Report, Data Usage, Diagnostic
Management
PerleVIEW Management, WEB (HTTP/HTTPS), SNMPv1/v2/v3, SMS Control, Load Balancing, CLI, Login Banner, E-mail, Ping, Telnet, FTP, Connection on Demand
Automatic check for software updates.
Software updates available over FTP, HTTP, HTTPS, SCP, SFTP, and TFTP
I/O Capabilities
One I/O configurable as digital input or Pulse Counter
One normally open (NO) relay contact
Especificaciones de hardware: Router LTE celular IRG5140 (Próximamente)
Los productos pueden adquirirse con o sin antenas y con o sin cables de alimentación. Todas las funcionalidades están incluidas en el precio base del producto. Los accesorios adicionales se venden por separado.
Cellular
LTE
LTE-A PRO CAT12. 600Mbps downlink and 150Mbps uplink speeds

Frequency Bands

Data & SMS Operation over: 4G LTE with fallback networks DC-HSPA+ / HSPA+ / HSPA / UMTS (WCDMA)

4G/LTE Bands (24)
2100(B1), 1900(B2), 1800(B3), AWS(B4), 850(B5), 2600(B7), 900(B8), 1800(B9), 700(B12), 700(B13), 850(B18), 850(B19), 800(B20), 850(B26), 700(B28), 700(B29), 2300(B30), 1500(B32), TDD B41, TDD B42, TDD B43, TDD B46, CBRS B48, 1700(B66)

3G HSPA/HSPA+ Bands (9)
2100(B1), 1900(B2), 1800(B3), AWS(B4), 850(B5), 800(B6), 900(B8), 1700(B9), 850(B19)

Public Safety Bands
Bands 26, 28

Cellular Antenna

Frequency Range: 704-902-928-960/1427.9-1575.42/1710-2170/2400-2480-2690MHz
Gain: 3 dBi
Impedance: 50 ohm
Voltage Standing Wave Ratio: <3.0 (typical)
Radiation: Omni-Directional
Connector: SMA Male (Swivel)
Dimensions: 135.6 x 20.1 mm / 5.34 x 0.8 in

SIM
Dual Mini-SIM 15 x 25mm (or 2FF )
GPS / GNSS
GPS / GNSS

Wide-band GNSS: 1559-1606 MHz
GPS: 1575.42 MHz / GLONASS: 1602 MHz / BeiDou: 1561.098 MHz / Galileo: 1575.42 MHz / QZSS: 1575.42 MHz
Simultaneous tracking: Up to 30 channels
Active GNSS antenna support
Reports: NMEA 0183 V3.0, TAIP

GPS / GNSS Passive Antenna

GNSS Applications: GPS, Glonass, Galileo, Beidou
Frequency Range: 1561MHz~1606 MHz
Gain: 4 dBi (typical)
Impedance: 50 Ohm
Voltage Standing Wave Ratio: 2.0 (typical)
Polarization: RHCP
SMA (M) straight
Dimensions: 41.9 x 47.3 x 16.3 mm / 1.65 x 1.86 x 0.64 in
RG-174 Cable Lenght: 5 m / 16.4 ft

10/100/1000 Mbps Ethernet RJ45 Copper
Ports
4 x 10/100/1000 Ethernet RJ45 Copper
Speed
Software selectable 10/100/1000 Ethernet, Auto
Software selectable Half/Full/Auto duplex
Ethernet Isolation
1.5Kv Magnetic
Standards
IEEE 802.3 for 10Base-T, IEEE 802.3u for 100Base-TX and 100Base-FX, IEEE 802.3ab for 1000Base-T,

IEEE 802.3x

for Flow Control
Processing Type
Store and Forward
MAC Address Table Size
8K
VLAN ID range
1 to 4000
USB
USB-C

1 x USB 3.2 Type-C with a transfer rate up to 5Gbps
Configurable for Ethernet over USB

Power Connector
Two Digital Inputs
Type 3 isolated Digital Input & Pulse Counting VDC: 0 for ≤ 1V, 1 for ≥ 2.7V
One Alarm Relay
Normally Open (NO) dry contact: 1A @ 24VDC
Platform Specifications
Microprocessor
Dual Core ARM 1.2GHz
RAM
1GB DDR4
Flash
4GB MMC
LED Indicators
Power 1: indicates power status
Power 2: indicates power status
WWAN: indicates Wireless Wide Area Network status
GNSS: indicates Global Navigation Systems for GPS, Galileo, Glonas and Beidou status
VPN: indicates VPN presence (for Router Models: IRG5520x & IRG5540x only)
Internet: indicates Internet connectivity
Environmental Specifications
Operating Temperature: -40°C to 70°C / -40°F to 158°F
Storage Temperature: -40°C to 85°C / -40°F to 185°F
Operating Humidity: 0% to 95% non-condensing
Storage Humidity: 0% to 95% non-condensing
Operating Altitude: 3048 m / 10,000 ft
Cooling: EN 60068-2-1
Dry heat: EN 60068-2-2
Damp: EN 60068-2-30
MTBF: > 287,215 hours (Calculation model based on MIL-HDBK-217-FN2 @ 30°C/86°F)
Heat Output (BTU/HR)
Enclosure
Aluminium
Mounting
DIN Rail (Mounts to standard 35 mm DIN rail in accordance with DIN EN 60175 vertically or horizontally)
Panel / wall mount attachement bracket is optional
Ingress Protection Rating
IP20
Power
Power Input
12/24/48 VDC Nominal (9.6 to 60 VDC Range) Dual Input
Power Connector
8-Pin Removable Terminal Block:


4-Pins for power
4-Pins for Alarm Relay and Digital Input

Power/Current Consumption
Standby (no activity / all ports shutdown): 3.9mA / 46.8mW
Idle Mode (connected/no Activity): 0.30A / 3.620W
Typical Use (connected/with Activity): 0.33A / 3.98W
Power Line Protection
Surge: 8KV (EN61000-4-5 common mode), 2KV (EN61000-4-5 differential and common modes)
Reverse polarity protection
YES
Weight & Dimensions
Product Weight & Dimensions
Weight: 0.38kg / 0.84lbs
Dimensions: 120 x 90 x 45 mm / 4.72 x 3.54 x 1.77 in
Shipping Weight & Dimensions
Weight (with Antenna): 0.61kg / 1.35lbs
Weight (without Antenna): 0.58kg / 1.28lbs
Dimensions: 195 x 170 x 70 mm / 7.67 x 6.70 x 2.75 in
Regulatory Approvals
Shock & Vibration
MIL-STD-810G (Shock: test method 516.6. Operational Vibration: test method 514.6)
EN 61373 (Shock, Vibration long-life / functional-random)
Hazloc
IECEx/IECx, ATEX Class 1 Zone 2, Directive 2014/34/EU
ANSI/ISA 12.12.01, Class 1 Division 2 Groups A-D, ISA 12.12.01-2015
Railway
EN 50155: 2017 Clause 4.3.6
EN 50121-1: 2017
EN 50121-3-2: 2016
EN 50121-4: 2016
IEC 60571:2012 For Clause 12.2.8 & 12.2.9
IEC 62236-1: 2018
IEC 62236-3-2: 2008
IEC 62236-4: 2018
Emissions
FCC 47 Part 15 Subpart B, Class A
ICES-003 Issue 6 Class A (Canada)
ANSI C63.4 Class A (Radio-Noise Emissions from Low-Voltage Electrical and Electronic Equipment in the Range of 9 kHz to 40 GHz)
EN61000-3-2: 2014 (Limits for Harmonic Current Emissions)
EN61000-3-3: 2013 (Limits of Voltage Fluctuations and Flicker)
CISPR 32:2015/EN 55032:2015 Class A (Electromagnetic compatibility of multimedia equipment - Emission requirements)
EN61000-6-4 (Emissions for industrial environments)
Immunity
CISPR 35:2016/EN 55035:2017 (IR)
EN 61000-4-2:2009 (ESD)
+/-8 kV (Contact and Air)
Operating mode: powered on
EN 61000-4-3: 2006 + A1:2007 + A2:2010(RS)
EN 61000-4-4:2012 (EFT) 2 KV (Criteria A)
EN 61000-4-5:2014+AMD1:2017 (Surge) 2KV (line to earth), 1.5KV (line to line)
EN 61000-4-6: 2013 (CS)
EN 61000-4-8: 2009 (PFMF)
EN 61000-4-9: 2016 (PMF)
EN 61000-4-11: 2004 + A1:2017
EN 61000-4-16
EN 61000-6-4: 2007 + A1: 2011
Electrical Safety
UL 61010-1 and UL 61010-2-201, IEC 61010-1:2010+AMD1:2016, IEC 61010-2-201:2017 (includes CB)
UL/ULC/EN 62368-1, IEC 62368-1:2018 (includes CB)
CAN/CSA C22.2 No. 62368-1-14, IEC 62368-1:2018
Cellular / Radio Standards
EN 301 489-1 (V2.1.1:2017-02), ETSI EN 301 489-1 V2.1.1 (2017-02)
EN 301 489-17 (V3.2.0:2017-03), ETSI EN 301 489-17 V3.1.1 (2017-02)
EN 301 489-19 (V2.1.1:2019)
EN 301 908-1 v11.1.7:2018-12, ETSI EN 301 908-1 V7.1.1 (2015-03) (Radiated emissions RF control and monitoring)
EN 301 908-2 v11.1.2:2017-08, ETSI EN 301 908-2 V11.1.2 (2017-08) (RF conducted)
EN 301 908-13 v11.1.2:2017-07, ETSI EN 301 908-13 V11.1.2 (2017-07) (RF Conducted)
EN 62311:2019, IEC 62311 Ed. 1.0 b:2007 (Human exposure restrictions for radio frequency electromagnetic fields)
Cellular/Telecom Regulatory Approvals
FCC/ICES, RED, PTCRB/CTIA, CE
Carrier Certifications
Verizon, AT&T
Environmental Specifications
Reach, RoHS3 and WEEE Compliant
Other
ECCN
5A992
HTSUS Number
8517.62.0050
Warranty
2 Years
M2M / IoT LTE Connectivity
The Perle IRG5140 LTE Router offers always-on M2M connectivity that is secure, reliable, cost-effective, and easy to deploy. Featuring an industrial-grade DIN-Rail housing, the Perle IRG51400 Router is a versatile and compact solution that provides 2G/3G/4G LTE connectivity with built-in GPS capabilities. The Perle IRG51400 Router is ideal for solving wireless connectivity challenges in a variety of vertical markets including video surveillance, digital signage, home security, oil and gas exploration, kiosks, smart grid, and many more.
LTE Failover & Out of Band Management with "Four-Nines" (99.99%Up-time)
When the wired link is down, network access can be maintained with automatic failover to LTE. There are several ways to determine with the Primary WAN is down. One example, is to use the Health Monitoring function where the IRG5140 will ping a destination IP through the primary route. If there is no response, the IRG5140 router will initiate a direct connection using the back-up LTE route. The relatively low cost of LTE for business continuity means a greater return on investment and scalability for multiple locations that have limited IT resources. By deploying Perle Routers LTE IRG5140, businesses will have on-demand network connectivity that is quick to deploy, simple to manage, and ensures maximum uptime.
Primary Router Deployments
For pop-up stores or branch locations with limited IT resources, the IRG5140 Router is an easy to deploy solution. This single box will function as an LTE Router and a 4-port 10/100/1000 Ethernet Switch. IPv4 and IPv6 is supported on both the WAN and LAN sides.
PCI Compliant LTE Failover
The credit card industry requires retailers to comply with Payment Card Industry (PCI) standard to maintain a secure environment when processing payment card transactions. For these transactions, a Perle IRG5140 Router acts as a wireless data conduit (Gateway) for routers and POS (point-of-sale-terminals) that have been configured for PCI compliance. The USBnet is on a different subnet from the point-of-sale-terminal. All security protocols must be established from the point-of-sale terminal to the payment processor. Payment card terminals must be on a dedicated LAN or VLAN. The Perle IRG5140 Router configured on gateway mode must be connected to a router that is configured for PCI compliance.
Communications Gateway for Railway
IRG5140 Routers are compliant with railway regulations and have the operating temperature, vibration, and emission certifications required for installation on trains, light rail, subways, and trams. They are perfectly suited for installation directly in the train or subway cabin, the dusty and humid environments of metro tunnels or, the enclosures found alongside rail tracks. Central administration centers can monitor rail traffic, switching status, track conditions, weather conditions, and security data gathered by the sensors and other equipment located in wayside monitoring stations. Onboard, connecting security cameras, informational displays, and other equipment allows for a wide variety of operational tasks to be undertaken by the control staff. With the ability to establish and maintain cellular tower connectivity at up to 100 meters per second (360km/224mi per hour), the IRG5140 LTE Router is ideal for any rolling stock application.
Failover with Static Routing
Force specified traffic to use different routing rules to direct specified traffic from the IRG5140 Router, or a connected device) to a designated primary router. If the primary route fails the specified traffic uses a backup route.
VPN Failover
With DPD and VPN Failover configured in the IRG5140 Router, two VPN tunnels are configured but only one is active at a time. If DPD detects that the destination is not responsing through the Primary VPN, traffic is automatically switched to the Secondary/Backup VPN. The VPN Failover feature will continue to ping the desintation through the primary tunnel and, if configured to do so, will automatically revert back to the primary once it up again. Status fields can be viewed to see the current status of both VPNs.
Non-NATed Networks
The Perle IRG5140 Cellular Router can handle multiple non-NATed networks behind a connected router or switch.
VLAN Support
The Perle IRG5140 Router supports up to 4000 VLANs on its Ethernet ports. VLANS are logical groupings of network devices that share the same broadcast domain. All devices on the same VLAN can ping each other without routing. There is no routing between VLANs.
Port Forwarding
Any unsolicited data coming in on a defined Pulic Port is routed to the corresponding private port and IP of a host connected on the LAN.
SMS support
The IRG5140 Router accepts SMS commands for basic actions and status. The IRG5140 Cellular Router will send back an acknowledgement that the SMS command was received every time.
Event Reporting
The IRG5140 Router can be configured to generate reports, or initiate actions, based on specified events. These events can be generated internally, or externally by devices attached to the IRG5140 digital inputs or alarm relay.